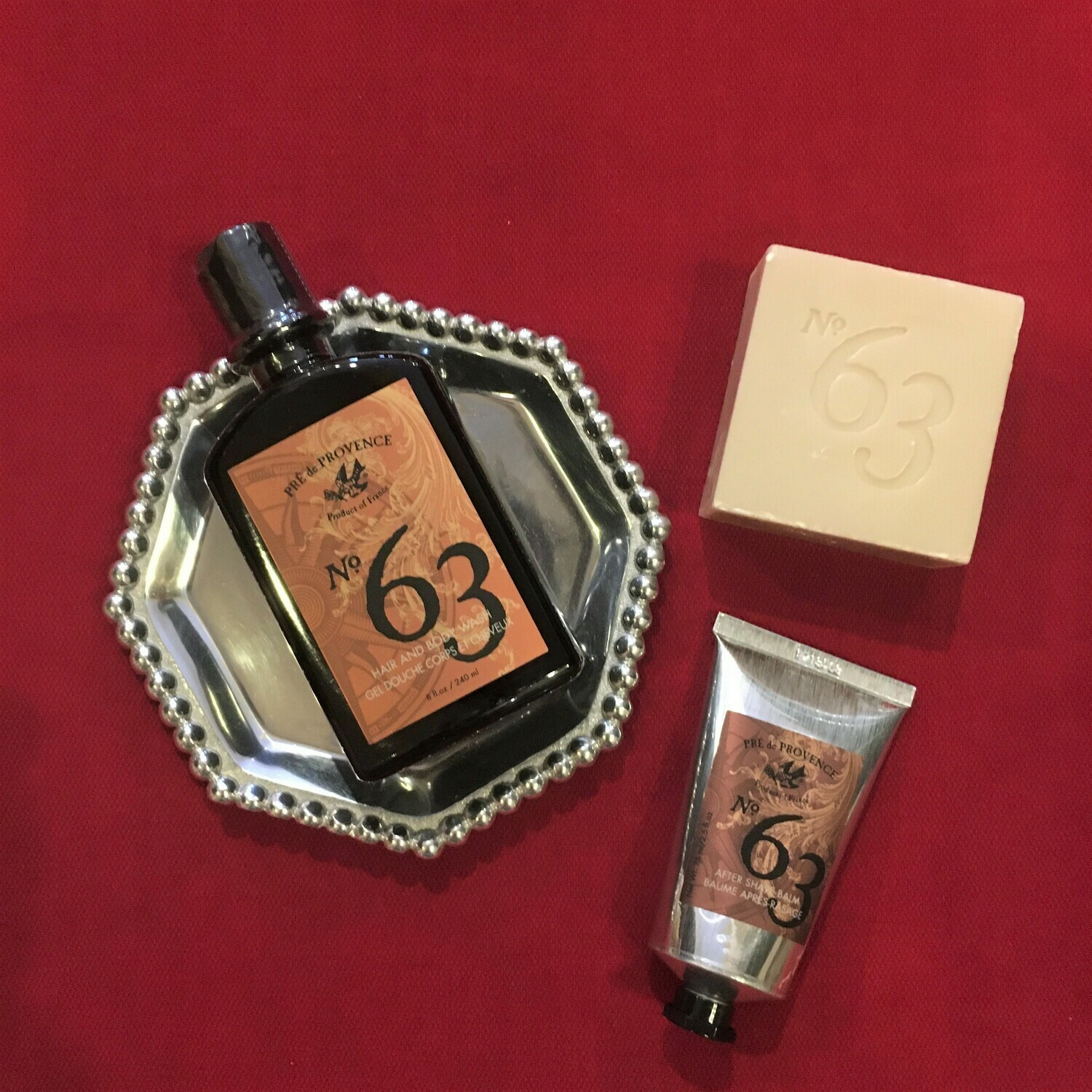 No. 63 Mens' Sundries Collection
SKU 00126
Product Details
Made in France, No. 63 is a warm and spicy scent with rich aromatic cedar undertones. An amazing scent with a strong following among our customers, the collection makes a wonderful gift for any gentleman and also for a young man about to embark on a new job or going off to university.

Each item in the set is infused with the fabulous scent of No. 63, starting with a 7 oz. quad-milled, moisturizing shea butter enriched soap bar. The set also includes an 8 oz. container with pop open lid of hair and body wash formulated with glycerin, shea oil and aloe vera to keep skin and hair hydrated and smelling sensational. To complete the collection, there is a tube of after shave balm (2.5 fl. oz.) enriched with shea butter, shea oil, aloe vera, allantoin, and grape seed oil to leave skin hydrated and smooth.
This fragrance is also a favorite among ladies who prefer non-floral, unisex scents.
Made in France
Dimensions: Soap bar – 3" L x 2-7/8" W x 1-5/16" D; Body Wash – 6" H x 2-5/8" W x 1-5/16" D; After Shave Balm – 2.5 fl. oz. tube with screw-on/off cap, measuring 4-1/4″ H x 2-1/4″ W
Full collection as shown (1 unit each of bar soap, shave balm and wash) – $52.99
#63 Luxury Bar Soap ONLY – $10.99 (shown on top right and 2nd photo)
#63 After Shave Balm ONLY – $24.99 (shown on bottom right and last photo)
#63 Hair & Body Wash ONLY – $17.99 (shown on left and in 3rd photo)
Save this product for later